Normal calcium levels in Primary Hyperparathyroidism: What you should know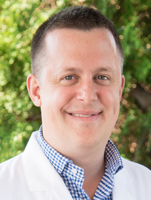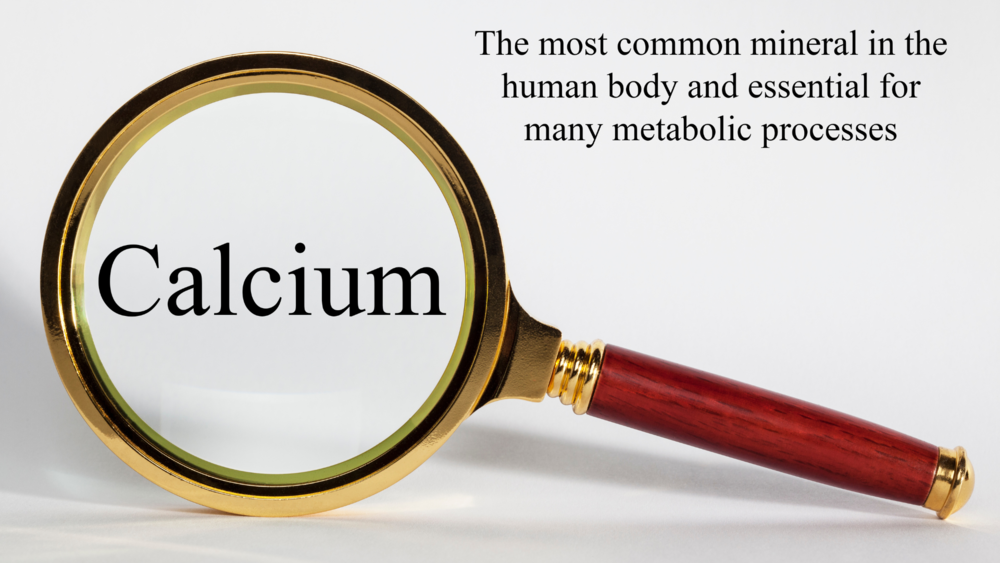 If you have primary hyperparathyroidism, you can have a typical or an atypical presentation of the disorder. Typical presentation (roughly 95% of our patients) will have elevated blood calcium levels with corresponding inappropriately elevated parathyroid hormone levels. Atypical presentation (roughly 5% of our patients) will have normal calcium levels and elevated parathyroid hormone (PTH). Here, we will conduct a deeper dive into these atypical patients, particularly if this is you or your loved one, or you are a physician/provider hoping to best understand normal calcium levels.
Normal calcium levels in Primary Hyperparathyroidism: What you should know
First, we need to understand what normal calcium levels are for the age of the patient. Second, we need to discuss the secondary causes for hyperparathyroidism that will have normal calcium levels, but not improve with an operation. Finally, our practice has studied these patients with minimally elevated/top normal calcium levels AND primary hyperparathyroidism. Top normal calcium levels can be 10.0 to 10.2, (sometimes to 10.5 or 10.6), depending on the lab analyzing the blood. In examining over 20,000 patients, we learned that the absolute degree of calcium elevation is not as important as the duration of time the patient is suffering with the disorder. Patients with primary hyperparathyroidism and calcium levels 11 or greater are affected the same as those patients with calcium levels 10.1 to 11, with respect to symptoms and quality of life parameters. The length of time you have primary hyperparathyroidism contributes more than how high the calcium ever gets.
Normal calcium levels: Depend on your age and lab used
During our teenage and early adult years, we grow bone, and our bones lengthen and become denser. During these years, our blood calcium levels are higher (more calcium in the blood because of greater bone turnover and bone structure remodeling). Once we reach 30 years old, however, the calcium levels decrease normally; and, by the time we are approaching 40, we should not have calcium levels above 10.1 (see Figure 1 below).
We commonly see calcium levels reported as "normal," even if reaching the upper limit of normal for the respective laboratory used (all lab reports come with a "normal range" printed right next to the result). For example, a blood calcium of 10.6 could be listed as a normal calcium level (and not flagged for the ordering doctor as a problem), if the "normal" calcium range is 8.8-10.6 for the lab used. If the ordering doctor does not recognize the 10.6 calcium as high (for adults 35-40 or older, calcium levels in the 10s are too high), then a PTH level will not be ordered, and the underlying primary hyperparathyroidism diagnosis is delayed. Again, most adults with parathyroid tumors have calcium levels consistently in the 10s. Without this understanding and recognition, most of our patients have been living with primary hyperparathyroidism for five years or greater, when we look back at their blood work. Their normal calcium levels were in fact NOT normal.
Figure 1: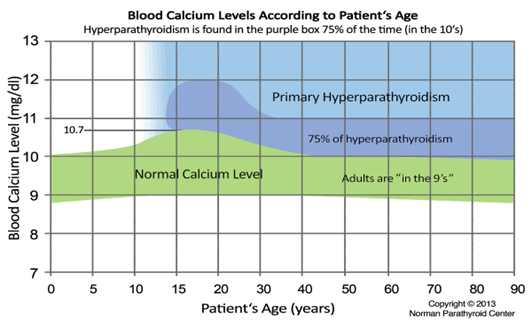 Figure 2: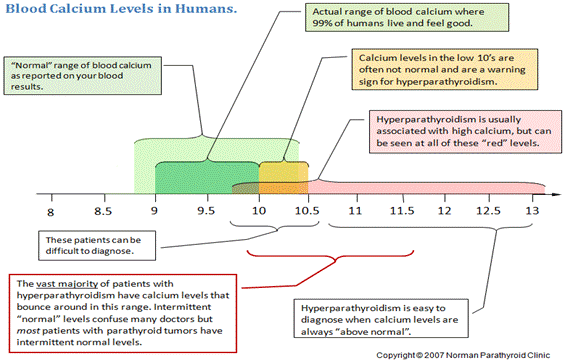 Patients with primary hyperparathyroidism have abnormal parathyroid glands preventing accurate regulation of normal calcium levels in the blood. The calcium levels will bounce around, from blood draw to blood draw. Some calcium levels may be above the normal range, while others can be within the top normal range. People with normal parathyroid glands have calcium levels that are very consistent from week-to-week, month-to-month, and year-to-year. So, if you are in your late-30s or older, and your calcium is listed in the top normal range (but more typically greater than 10.1), when previously it had been consistently in the low-mid-9s, then tell your doctor, "my PTH should be checked with my next calcium level!"
It is normal for adults to occasionally have calcium levels in the low 10's (the yellow area in Figure 2 above). However, it is not normal for adults over 40 to have persistent calcium levels above 10.1. Only teens and adults under 35 can have truly normal calcium levels in the low 10's. And thus, the listed as normal calcium level of 10.6 in the example used, is not normal for adults over 35 (the lab will report normal ranges for ALL humans NOT corrected for age).
Normal calcium levels: Secondary vs primary hyperparathyroidism
When you have normal calcium levels and elevated PTH, you must quickly make sure it is not due to your kidneys or a malabsorption issue in the intestines. In these cases, the elevated PTH is secondary to another problem in the body, but not primary due to a problem with the parathyroid glands themselves. First line therapy for secondary hyperparathyroidism is not surgery.
Secondary hyperparathyroidism due to end stage renal disease (you are either on dialysis or talking to your kidney doctor about dialysis) is the result of the kidneys no longer being able to properly metabolize Vitamin D. In turn, the calcium is not able to bind properly in the blood, so you have low normal calcium levels, and your parathyroid glands are all working too hard, producing high PTH to try and bring the calcium level up. All parathyroid glands get big and overproduce PTH (usually >800 before considered for surgery)! Again, you have low normal calcium levels. If your calcium level is above 10.1, you are showing signs of kidney dysfunction (glomerular filtration rate- GFR <60, lab value for how well your kidneys are working), and the PTH is elevated, this is primary hyperparathyroidism and needs surgery for cure.
Patients having had gastric bypass for weight loss (NOT sleeve gastrectomy) have the 1st portion of the intestine (the duodenum) bypassed by the surgery (re-routing of the anatomy and the transit of food). The reason why this is significant is that we humans absorb the calcium from what we eat in the duodenum. Thus, if this section of the intestine is bypassed, the patient will not absorb calcium from the diet in a normal way, which will cause the patient to have low normal calcium levels. As a result, the parathyroid glands will increase in size and PTH production (secondary to the malabsorption) to increase the blood calcium level. These patients need to take lifelong calcium and vitamin D supplements (since not getting enough in the diet) to make the parathyroid glands happy.
Uncontrolled celiac or Crohn's diseases, resulting in chronic diarrhea, will also result in the inability to fully absorb calcium, leading to a total-body calcium deficit and secondary hyperparathyroidism. The best way to prevent this is to treat the underlying condition, the diarrhea (either through diet modification [celiac] or potentially intestinal surgery [Crohn's]).
Normal calcium levels: Not how high, but how long
One commonly-held assumption about parathyroid disease is that the severity of the disease is related to the height of the calcium. That is, many people assume that if the calcium is only mildly elevated, then the disease cannot be causing many problems. This leads to the belief that mildly elevated calcium levels can be monitored over time, with intervention only if the calcium reaches some threshold or cutoff.
The typical "magic" number we hear is 11.2, which has come from the 2014 International Consensus Guidelines on when to operate on patients with hyperparathyroidism. The 11.2 calcium level is considered "one gram above top normal" of 10.2, which per these published Guidelines is one independent indication to consider surgery. These Guidelines were re-confirmed by the American Association of Endocrine Surgeons' published Guidelines on the same topic in 2016.
The primary doctors and endocrinologists know about these Guidelines and will see consistently top normal calcium levels and just "watch it," as opposed to getting a corresponding PTH level. These doctors will wait and see if your calcium goes any higher, (11.2 or higher).
In looking at over 20,000 of our surgical patients, it turns out that only 20-25% ever had ONE calcium level that was 11.2 or higher. Most patients with a parathyroid tumor have average calcium levels in the mid-to-upper 10's (sometimes listed as top normal calcium levels for the lab range used), and their highest number is usually 11 or lower. So, if you are waiting for this "magic" number, your tumor will continue to grow, you will continue to feel bad (see our symptoms page), you will continue to get weaker bones, and you will lose the joy of life. While you are feeling bad and your bones, heart, and kidneys slowly get destroyed by the consistently elevated blood calcium level of 10.1 or higher, there is a 75-80% chance that you will never get to the "magic" number of 11.2. The severity of hyperparathyroidism CANNOT be measured by how high the calcium levels are. The size of the tumor cannot be predicted based upon how high the calcium levels are. You either have parathyroid disease or you do not. If you do have a parathyroid problem, the only way to fix it is to have surgery to remove the tumor.
We examined this severity assumption in the same 20,000 patients. We found that "mild" elevations in calcium (i.e. serum calcium levels that never went to 11.0 mg/dl) were associated with the same symptoms and complications as more significant calcium levels (11.0 or greater). Patients with mildly high calcium levels (sometimes labeled as normal calcium levels depending on the lab used) had the same rate of fatigue, kidney stones, osteoporosis, hypertension, and all other subjective symptoms (fatigue, low energy, muscle pain and weakness, headaches), as their higher calcium counterparts.
It appears that the duration of high calcium, rather than the height of the calcium, is what determines disease severity. The longer you have high calcium levels (again, possibly listed as "in the normal range" for the lab used), even if only mildly high, the greater the opportunity for more symptoms and complications to develop. For this reason, monitoring high/top normal calcium levels, or waiting for them to reach a certain "magic" number, does not serve the patient with primary hyperparathyroidism. It is best to treat the high calcium when it is diagnosed, rather than waiting for the level to rise, or worse, for complications to develop.
Bottom line: top normal calcium levels with inappropriately elevated PTH levels are consistent with primary hyperparathyroidism. If you are approaching 40 (or older), your normal calcium levels should be consistently less than 10.1. If they are not, ask to have your PTH checked with your next calcium level. The calcium to PTH ratio is how primary hyperparathyroidism is diagnosed.
To fix high AND top normal calcium levels, surgery is required. Firstline therapy for secondary hyperparathyroidism is not surgery.
The length of time you have high or top normal calcium levels is more important than achieving an absolute number of high calcium. You should not delay surgery waiting for your calcium to reach a certain number, while your bones, kidneys, heart, and quality of life suffer. Be proactive, be your own advocate, get your calcium AND PTH levels checked.
---
Additional Resources:
---
---