The Norman Parathyroid Center is located in Tampa, Florida where hyperparathyroidism is the only disease we treat. We perform over 3,700 parathyroid operations annually (about 75 per week) with a cure rate over 99% via an operation that typically lasts between 15 and 23 minutes (under 20 minutes average) to evaluate all four parathyroid glands. Virtually all of our patients go home within 2 hours of their parathyroid surgery. We strive to treat every patient like a family member and provide the most informative and timely feedback to referring doctors. We are the only doctors in the world that treat parathyroid disease exclusively. Parathyroid surgery -- specifically MINI-parathyroid surgery is all we do--and we do this same mini-operation on everybody, even those with negative scans--because we evaluate all four glands in virtually all patients.

The Norman Parathyroid Center employs the most advanced surgical techniques used anywhere--many of which have been developed here. We have performed more parathyroid operations than any institution world wide, currently about 25 times more than any other hospital or university on an annual basis. We perform approximately 11% of all parathyroid operations performed in the US each year and have a referring network of over 1400 endocrinologists from all 50 states.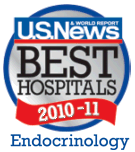 We operate out of the Parathyroid Center at Tampa General Hospital, a beautiful new facility built in 2009 for our practice. The Parathyroid Center is a self-contained, advanced surgical center on the top floor of one of America's largest hospitals. We have been awarded the "Best Hospitals in America" by US News and World Reports in "Endocrinology" and "Head and Neck Surgery" for the past 8 years, recognizing our expertise in the field of parathyroid surgery. US News also ranks our surgeons within the top 1% of all surgeons in the US. Our hospital was chosen as the #1 hospital in Florida for 2012-17. Within the Parathyroid Center we have our own operating rooms which are used for parathyroid surgery only. The staff of the Parathyroid Center is dedicated to our patients only,

thus each staff member has taken care of thousands of patients with hyperparathyroidism. The Parathyroid Center is so nice, our patients call it the "Parathyroid Palace".
Patients can expect one visit to our center for about 4-5 hours where every aspect of their disease is addressed... from meeting expert surgeons, to getting scans and having the operation. One four hour visit and this problem is gone. Become Our Patient.
The average US surgeon performs only a few parathyroid operations every year. Even most "expert endocrine surgeons" perform about 25 parathyroid operations per year1. Many "experts" only want to remove the ONE tumor they see on the scan and quit the operation--this is cheating; don't let your surgeon cheat you. You should demand an operation that evaluates all four parathyroid glands.
The Norman Parathyroid Center performs parathyroid operations exclusively--an average of 15 parathyroid surgeries per day (average 75 per week)--far more than any other surgeon, hospital, or clinic in the world (see Medicare statistics). We consult on over 3900 patients with high calcium annually and have learned a lot from this experience. We maintain the world's largest database of parathyroid patients, allowing us to compare even the most uncommon presentation of parathyroid disease to many just like it that we have seen previously. The reason for this very high degree of specialization is that Dr Norman was the developer of minimally invasive parathyroid surgery in the mid 1990's, and since that time patients with hyperparathyroidism come from all over the US, and 50+ foreign countries from around the world to have our surgeons perform their parathyroid surgery. See our MAP of where all our patients come from. Some are probably your neighbors! If you think the best surgeons are in Boston, or New York, then read our testimonial page and see why the surgeons and operating room nurses at Harvard, Hopkins, Penn, Yale, Columbia, Mayo, Memorial Sloan Kettering, and many other revered hospitals came to Tampa when they needed a parathyroid operation themselves. We operate on an average of 6 doctors per week. They come here because we examine all four parathyroid glands during all of our operations--we don't cheat you by only removing the one tumor that shows on a scan (if if shows on a scan!).
Drs Norman, Politz, Ruan, Lopez, Boone, Mitchell, and Parrack work closely with what is unquestionably the world's best nuclear radiology team, performing nearly 40-times more hyperparathyroid Sestamibi scans than any other institution world-wide (and developing many of the techniques used for this study). Our scans take only 15 or 20 minutes. This level of volume and dedication to parathyroid disease has made the treatment of hyperparathyroidism a highly specialized field. Our expertise has made parathyroid surgery a very straightforward, routine outpatient procedure that usually takes about 19 minutes (total time on average) to evaluate all four parathyroid glands, remove the tumor, measure the amount of hormone being produced by each gland, evaluate the thyroid, and close the incision using plastic surgery techniques. "Build a better mousetrap and the world will beat a path to your door". This is clearly what has happened to our practice. Nobody can do what we do.

We have a video of Dr Norman performing a 4-gland, mini-parathyroid operation in 12 minutes, removing two parathyroid tumors. The patient went home 45 minutes later. After you watch this, you can see why our surgeons have been awarded virtually every honor possible for doctors and surgeons. Even US News and World Reports magazine has ranked our surgeons in the top 1% of all surgeons in the US, with HealthGrades ranking us in the top 1% in customer satisfaction 11 years in a row. We take pride in treating every patient like they are our most important patient.
You Can Have Drs Norman, Politz, Ruan, Lopez, Boone, Mitchell, and Parrack Perform Your Parathyroid Surgery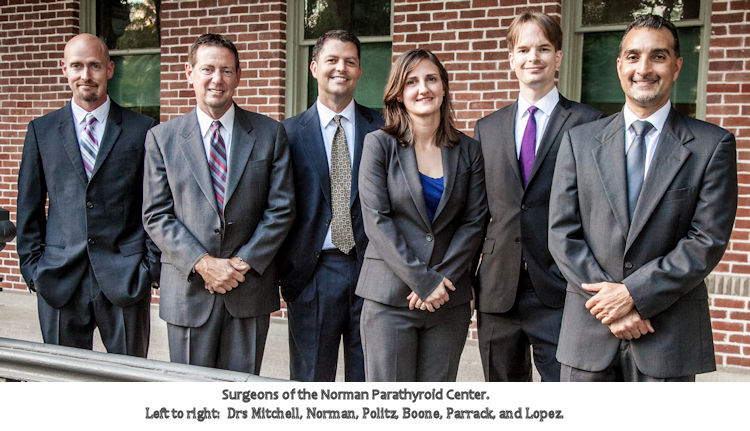 Parathyroid surgery is very delicate surgery and the outcomes (cure rate and complication rate) are directly correlated with your surgeon's experience. Our surgeons do not perform breast biopsies, gallbladder removals, hernia repairs, or perform abdominal surgery. Heck, we won't even see patients with thyroid disease unless they also have a parathyroid tumor. Parathyroid surgery is the only surgery we do. And, about 14% of the surgeries we do are on people who have already had an unsuccessful parathyroid operation by a surgeon with little experience (we do between 2 and 5 re-operations every day). Click Here to read more about how to become our patient, and read our statistics for our past 30,000 parathyroid patients (cure rate over 99%, average operating time about 19 minutes, essentially everybody goes home between 1.5 and 3 hours, 1 inch incision, etc.). We fail to cure about 1 in every 200 patients with their first mini-operation. Of the few patients that we don't cure at the time of their first quick operation, we have cured all but a handful of them with a second mini operation. Thus, for our last 28,000+ patients, we have an overall cure rate of 99.6%. We are in-network and preferred providers for: Medicare, Cigna, Blue Cross/Blue Shield, Humana, Aetna, United Healthcare (through multiplan) and lots of others.
We look at all four parathyroid glands--this is much harder to do which is why most surgeons won't do it. (watch the video --it takes 13 minutes to look at all four glands and remove two tumors). About 30% of people will have more than one bad gland, and the only way to know if it is you... is to have all four parathyroid glands examined. You should demand this of your surgeon. Of course, most will not (it is hard to do) but this is why we do more parathyroid operations than the top 10 universities combined, and why people from all over the world come here. If you don't come here, please, pick the most experienced surgeon in the world. Read this article.
Read what our patients from all over the world say about their parathyroid surgery experience at the Norman Parathyroid Center: Click Here. See a map of where our patients come from: Click Here.
We track all hyperparathyroidism patients for several years following their parathyroid surgery. All laboratory data and surgical findings from our patients are entered into a large database maintained by a full time data entry employee. This is by far the largest database of parathyroid patients in the world. Thus we can use the information gained from many thousands of previous parathyroid patients as a comparison tool for all new patients. This allows us to predict who needs surgery and who is most likely to benefit from surgery. It helps us predict who will have one bad parathyroid gland and who may have more than one. This type of information helps the surgeons perform quick operations that have an extremely high cure rate. It also helps us avoid operating on people who don't need an operation! We take pride in publishing our parathyroid procedures and surgical results in some of the worlds most highly regarded medical publications. We publish major articles on hyperparathyroidism and the treatment of parathyroid disease every few months.
Norman Parathyroid Center

2400 Cypress Glen Drive


Wesley Chapel

,

FL

33544




Phone:

813-972-0000

Fax:

813-972-0077
Remember, the operations are performed at the brand new Parathyroid Center @ Tampa General Hospital not at our office. Out of town patients do not come to the office, but meet the doctors on our dedicated floor of the hospital.
For information on the best way to contact us about having two (or three) of our expert surgeons take care of your hyperparathyroidism, see our page that outlines the different ways to phone / fax / email our staff, or submit a patient profile online--CLICK HERE. You read that correctly, our surgeons operate in pairs (or threes) and so you get at least two of the 5 most experienced parathyroid surgeons in the world taking care of you and participating in your operation--this is another way we achieve over 99% cure rates. We do not use surgery residents to do your operation, and our experts almost never operate alone--there are always two or three of our surgeons available for every operation.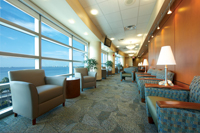 We perform all our operations at the new Parathyroid Center @ Tampa General Hospital, a special wing of the hospital designated for parathyroid patients. Why did we get the top floor of the new wing? Because we are doing something right! Tampa General Hospital has been named US News and World Reports' "America's Best Hospitals" for a number of years. In 2014 our hospital was selected in 7 different medical specialties, including "head and neck surgery" and "endocrinology". Of course, when they say: "head and neck surgery" and "endocrinology" they're talking about us.
Take a video tour of our new Parathyroid Center and see the folks who will take care of you.
* Footnote 1: National trends in parathyroid surgery from 1998 to 2008: a decade of change. J Am Coll Surg. 2009 Sep;209(3):332-43. Greene AB, Butler RS, McIntyre S, Barbosa GF, Mitchell J, Berber E, Siperstein A, Milas M.
---
Questions/comments regarding this web site (NOT patient information): info@parathyroid.com. This page was last updated 12/25/2017
---
Parathyroid.com maintains an A+ ranking with The Better Business Bureau (BBB). The Better Business Bureau, founded in 1912, is a nonprofit organization focused on advancing marketplace trust, consisting of 112 independently incorporated local BBB organizations in the United States and Canada, coordinated under the Council of Better Business Bureaus (CBBB) in Arlington, Virginia.
---

Parathyroid.com has been reviewed and is accredited by the HonorCode Health on the Net Association assuring health information on the net is true, vetted, accurate, and regularly monitored. Check our Registration and Accreditation Here. This is an important online health accreditation watchdog to protect consumers from fraudulent online information. Parathyroid.com has been accredited annually since 1999.
---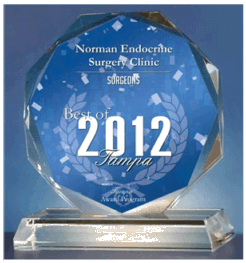 Parathyroid.com is recognized as the leading parathyroid information source worldwide and is maintained weekly by the worlds most experienced parathyroid doctors and surgeons. Over 2,500 other websites on this subject link to parathyroid.com. Parathyroid.com is the number one trusted source for information on the diagnosis and treatment of parathyroid disease in the world, with nearly 10,000 unique users per day. We average over 11,000,000 page views annually, more than all other parathyroid websites, online journals, and books combined. We work hard to make sure every aspect is fully researched, documented, and presented in a truthful way. All of the contained graphics and words are ours and ours alone. Please no plagiarism! Don't steal our graphs---ask us and we will probably let you use them!
We are happy members of the HighBloodCalciumIsBad.com campaign to raise awareness of the dangers of high blood calcium.

Like Art? Check out Dr Norman's daughter Ali's website AliNorman.com. She is an amazing young talent.

The Calcium-Pro app was a "Top-Three" finalist for "Medical App of the Year" for 2014. Check out this great app that will help you diagnose hyperparathyroidism quickly and accurately.

Dr Norman was named the Health Care Hero for 2011 by the Tampa Bay Business Journal, recognizing him as the most influential physician in the Tampa Bay area for 2011, having the greatest impact on patients and the community.


Parathyroid.com is a finalist for the Dell Small Business Excellence Award.
Parathyroid.com meets all BBBOnLine Reliability participation and Better Business Bureau membership standards and is authorized to display the BBBOnLine reliability seal.

Parathyroid.com is ICCS Certified by the iWatchDog Program for consumer protection assuring this site is safe, secure, private, dependable, and truthful.

Parathyroid.com is a member of almost all internet security venues and is regularly reviewed by multiple regulatory companies for accuracy.


Parathyroid.com has been reviewed and is "Surf Safe", does not contain offensive materials and is rated for all ages. This website does not accept advertisements.
We are by far the most read information on parathyroid disease in the world. We do no advertising, but chosen #1 on Google, Yahoo, MSN, AOL, Ask.com, and many other web sites. We are linked to by over 300 universities and 400 hospitals. Dr. Norman's surgery video is featured on the National Institutes of Health (NIH) website.

Parathyroid.com has won dozens of awards for medical web sites over the past 12 years. Even the editorial style of the site has been praised as "down to earth" and "incredibly easy to understand". Sometimes we are extremely blunt and to the point... sometimes to a fault. But, it seems to serve a purpose as we are teaching the world about parathyroid disease.

Parathyroid.com has been listed as a "Best of the Web" for over 15 years.

A video of parathyroid surgery performed by Dr Norman is the only video on parathyroid disease shown on MedlinePlus, a medical web site published by the National Institutes of Health and the US National Library of Medicine. Information from Parathyroid.com is featured prominently.

Winner FWA "Favorite Web Award" 2004; voted by other web designers for healthcare content.