At the Norman Parathyroid Center, we operate on about 75 parathyroid patients per week, about 30-35 of whom are from outside the state of Florida. Almost all our parathyroid patients stay at these hotels because they treat our patients very well.
How many days do I need to stay in Tampa?
Typically 2 nights if you are flying in: the night before and the night after. You do not need to spend a few days in Tampa after your operation--we've done this over 28,000 times and trust us, fly home the next morning. You do not need to spend a few days in Tampa after the operation.
If you are traveling by car, then get in your car and go home immediately after the operation. You do not need to spend the night unless you don't have somebody to drive you (read more). Most patients who drive to our center from more than 100 miles away will stay in one of our hotels the night before the operation, check out of the hotel early in the morning prior to going to the hospital, and then drive home directly from the recovery room. We've done this tens of thousands of times.
When should I arrive in Tampa?
Usually the afternoon or evening prior to the operation. One of the ladies on our staff will tell you more--based upon what day of the week your operation is on. (read more at the bottom of this page).
---
Our Most Common Hotels
The majority of our patients stay at one of these hotels and thus they know our patients well. They are close to the hospital and give our patients great service. The hotels are close to all of the nice amenities of downtown Tampa with a shuttle available to take you to dinner, or wherever. These shuttles will also pick you up at the front door of the Parathyroid Center at Tampa General Hospital when your operation is over. Since you have to be at the hospital early in the morning before the shuttle starts, you may need to take a taxi or Uber--but the hotel staff knows all of this and will help you. The taxis are there waiting for you (heck, the taxi drivers know a lot about parathyroid disease!). The Epicurean Hotel will make the Uber arrangements for you.
---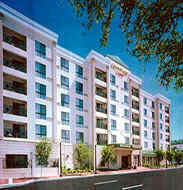 Courtyard by Marriott. Downtown
Norman Parathyroid Center reservations line (813) 227-4386
(Standard Business Hours, Voice Mails will be promptly returned)
1 mile from the Hospital.
Located: Downtown Tampa.
Address: 102 East Cass Street. Tampa, FL.
Hotel Direct (813) 229-1100
$164 nightly between January 1st and April 30th; $131 between May 1st and September 30th, and $139 between October 1st and December 31st.
Very nice and our folks like the service. Breakfast, Lunch and dinner in the hotel lobby. The hotel does provide a complimentary shuttle between 7:00 am and 11:00 pm that will service Tampa General Hospital and surrounding area attractions. You will be close to the River Walk, Florida Aquarium, and many restaurants. Since most of you have to be at the hospital between 5:00 and 6:30 am, you will need to take a taxi to the hospital in the morning and the hotel will help you do this. The shuttle will take you back to the hotel after your operation. Our nurses in the recovery room will make the call for the shuttle for you. Those of you that need to be at the hospital at 9:00 am or later can take the shuttle both directions.
Note from our Doctors: Several restaurants have opened up directly across the street such as Taps, Fly Bar, Taco Bus, and Pizza Fusion. Their shuttle will be more than happy to take you to Ybor City as well as ChannelSide where you could enjoy number of restaurants.
Book Directly at our special rates by clicking here.
If you do call the hotel directly to make a reservation, we prefer that you call the Norman Parathyroid Center Reservations Line (813) 227-4386 and ask for the Norman Parathyroid Center Rate. If someone is not immediately available, please leave a voicemail and your contact information and the reservation personnel will promptly return your call.
The Courtyard donates a portion of the proceeds to the National Parathyroid Education Foundation. You can help too with a tax-deductible donation!
---
Epicurean Hotel, Tampa
The new
Epicurean Hotel
is an upscale hotel within the Marriott family and is about 1 mile from Tampa General Hospital. This very nice hotel was built in 2015 and is located within the heart of the South Tampa restaurant disctrict, and directly across the street from Bern's Restaurant (one of Tampa's most famous restaurants). Beautiful rooms with the most comfortable beds and accomodations. Check out their website to see how nice this hotel is. High speed internet is included. They do not have a shuttle, but they have a Uber service that they will arrange for your travel to and from the hospital, and it will be added to your room charge directly making it very simple. High speed internet is included free. 1/1/2017 to 4/21/2017 Standard King $249
4/22/2017 to 6/28/2017 Standard King $209
6/29/2017 to 9/10/2017 Standard King $189
9/11/2017 to 12/31/2017 Standard King $219
These rates for our patients are about $100 less than their usual rates. For an additional $10 per night you can have a room with two queen beds instead of 1 king bed.
Book direclty
by using the
Epicurean Hotel Norman Parathyroid Center
online form. This is highly recommended.
---
ALoft Hotel, Tampa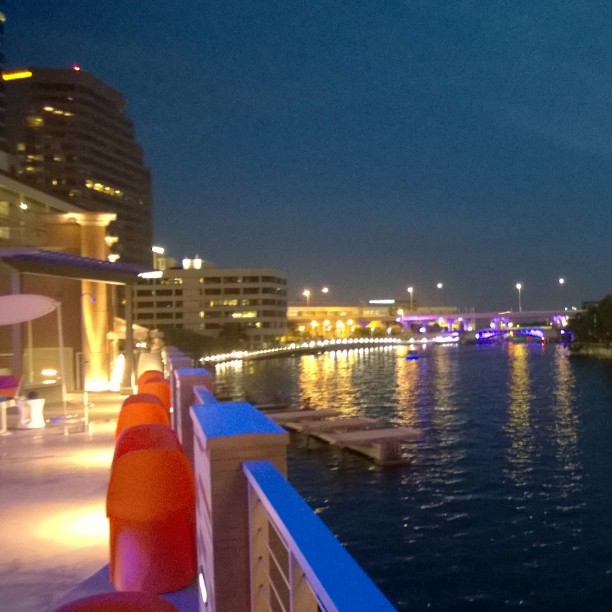 100 West Kennedy Boulevard, Tampa, FL, 33602
Stay in style on the Riverwalk in the heart of downtown Tampa. The
ALoft Hotel
is a Starwood Prefered Guest Hotel and is located only 1/2 mile from the hospital. This hotel has a European feel, but every room is new, clean, and fresh. It is located on the Riverwalk, Tampa's hip place to walk along the water front. Very safe location and plenty of out-door things to do. Mallio's, one of Tampa's nicest restaurants is right across the street. High speed internet is included free.
NOTE:
some patients say this hotel is a bit too European for them. The hotel was purchased by ALoft Hotels a few years ago and had a complete renovation. It is very clean, but with smaller, European-type rooms that are very simple. Some people love it, others say "it is not the best choice for us old grandparents". Also, they have a "hip" pool bar that can be a little loud on Friday nights and weekends. If you want peace and quiet, this is not your place on the weekends. 1/1/2017 to 4/30/2017 Standard Room, City View $194
5/1/2017 to 9/30/2017 Standard Room, City View $144
10/1/2017 to 12/31/2017 Standard Room, City View $164
These rates for our patients are about $100 less than their usual rates.
Book direclty
by using the
ALoft Hotel / Norman Parathyroid Center
online form. This is highly recommended.
---
Other Hotel Choices
There will be instances where these hotels may be booked due to downtown Tampa events. In these instance or if you prefer a different brand of hotel you may use this link to find alternative accommodations
www.visittampabay.com/stay
.
---
When do you come and how long do you stay?
Typically, patients will come to Tampa the day (afternoon) prior to their surgery. ALL preoperative evaluations and hospital registrations are done over the phone... you do not have to come to the hospital prior to the day of your operation. The hospital will call you 1 week prior to your scheduled operation and you will be able to take care of all registration information, insurance information, etc with them over the phone. You will spend this night in a hotel. The following day you will go to the hospital for the outpatient parathyroid procedure. Our average operative time for this procedure is about 18 minutes. All patients spend about 1 or 1.5 hours in the recovery room (the last hour will be with their families), and then are discharged. It is extremely rare for parathyroid patients to need to spend the night in the hospital... the procedure is so small and so quick, only about one in 800 patients will have to spend the night (due to other medical problems complicating their overall health). If you live in Florida, then you can go directly from the recovery room to your home via car (you can't drive, but you can be a passenger). If you don't live in Florida, you should spend this night in a hotel also. Some people elect to spend the night of surgery in the same hotel in Tampa. Others elect to travel to Orlando (Disney World area), while others elect to spend this second night in a hotel on the beach (Clearwater or St. Pete Beach). Occasionally, some people will travel by airplane back to their home in another state within a few hours of leaving the hospital...we generally don't feel this a great idea... Traveling the day of surgery by car--yes... by plane--we'd rather you did not. We would rather you relax, have a nice dinner with your family, and spend one more night in the Central Florida area. Again, if you are traveling by car, we encourage you to get on the road right after the surgery if you feel like it. Our advice to those traveling by car: Find a Wendy's Hamburger place and get a chocolate Frosty (their brand of milkshake)... it will make your sore throat feel good!
FLORIDA PATIENTS: People who are traveling by car from other areas in Florida almost always elect to drive home back after their operation. This includes people from Jacksonville, Gainesville, Ocala, Orlando, Daytona, Melbourne, Ft. Lauderdale, Miami, Boca, Ft Meyers, Sarasota, etc, etc. You can stay in Tampa to visit the area attractions such as the aquarium, Museum of Art, and area beaches, or you can drive home (somebody else MUST drive... but you will be fine!).
---
Recommended Reading
NEW!

We like our patients to watch our educational videos. Some are very good. Go to our video page.
Want to see where all of our patients live? Want to see if any of your neighbors have come here for their parathyroid surgery? Check our MAP!
If you haven't watched the movie of the operation, this is a good time to do so. It is our number one video and very educational (and there is no blood!)
---
The hotels on this page are Silver Sponsors of the National Parathyroid Education Foundation

---
This page was last updated: 01/30/2018.