5 Things to Know About Curing Hyperparathyroidism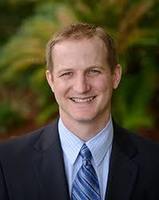 What is Hyperparathyroidism and Why Should I Cure it?
Hyperparathyroidism is a 100% curable disease that is caused by over function of one or more of the parathyroid glands. Parathyroid glands are four small glands in the neck that help regulate calcium levels in the blood. The glands monitor our calcium level and produce parathyroid hormone (PTH) to help keep it at a normal level. If it gets too low, they produce more parathyroid hormone. PTH works at several parts of the body to raise the calcium level and keep the body functioning normally. In hyperparathyroidism, one or more glands are producing excess PTH and releasing it, which drives the calcium level up. Read this webpage for a more in depth discussion the disease.
Hyperparathyroidism causes bone loss leading to fractures, kidney stones, kidney damage, low energy, bone pain, sleep issues, irritability, and issues with memory and concentration, along with many other symptoms. Having hyperparathyroidism can even increase your risk for breast, prostate, and other cancers. Some people have no symptoms or signs of damage at the time of diagnosis, but damage is still being done. You can read more about the effects of hyperparathyroidism here. Many of the symptoms are completely reversible. For the rest, the longer you have the disease, the more damage is done. With all of these symptoms and effects throughout the body, a better question is why wouldn't you want to cure hyperparathyroidism.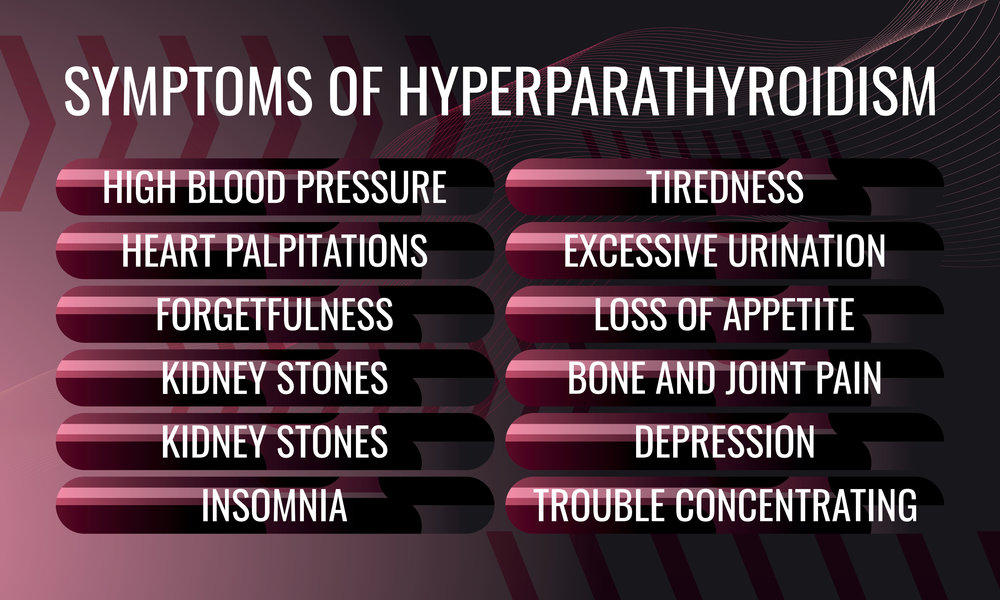 5 Things to Know About Curing Hyperparathyroidism
1) Hyperparathyroidism Cannot be Cured Without Surgery
You should not sit idly by to see if your hyperparathyroidism will cure itself. It won't. Rechecking calcium levels over time to see if the disease is going to get better is also not a good idea. It will only get worse over time.
One of the more common statements we hear from people is that their calcium level wasn't very high, and they recommend "watching it," or "observation." This is a mistake. If your calcium level is elevated or "high-normal," you should be evaluated for hyperparathyroidism. If the results show hyperparathyroidism, it's time to talk about treatment. If you have the disease, don't wait for symptoms or to see how high your levels can get. Remember, this disease is doing damage to you, even if you don't notice.
2) Hyperparathyroidism Cannot be Cured With Medication
There is no medication that can cure hyperparathyroidism. There are three classes of drugs that you might try or your doctor may recommend, but none will work. The first one that we commonly see is vitamin D supplementation. Your doctor does this because they are either ignoring your calcium levels or misunderstanding the balance between calcium, PTH, and vitamin D. In both cases, it doesn't work and can drive the calcium up to dangerous levels. You can read more about vitamin D here.
The second medication used to treat but not cure hyperparathyroidism is Sensipar (cinicalcet). Sensipar is a medication approved for the treatment of secondary hyperparathyroidism (meaning the cause is not the parathyroid glands, and in this case, kidney failure). It is not approved in the treatment of primary hyperparathyroidism (caused by a parathyroid tumor) because it is harmful. Taking Sensipar with primary hyperparathyroidism can worsen bone loss and kidney damage. And, in the majority of cases, it makes people feel miserable. Taking Sensipar for primary hyperparathyroidism is not a good treatment and should almost never be used.
The last medication applies to people with osteoporosis and hyperparathyroidism. There are several medications in this category (Fosamax, Actonel, Evista, Boniva, etc.) and they are great medications for osteoporosis. They treat one of the effects of hyperparathyroidism, but they do nothing about the hyperparathyroidism itself. Studies have shown that people with hyperparathyroidism taking these medications will continue to lose bone density (close to 90% of them). In contrast, curing parathyroid disease will result in significant bone density gain. If you have a parathyroid tumor, your bones will get worse until you cure the disease with surgery—osteoporosis medications will not help, and may hurt if it causes a significant delay in getting to surgery.
3) Surgery is the Only Cure for Hyperparathyroidism
For almost 100 years, surgery has been the gold standard and one cure for hyperparathyroidism. The idea is simple. One or more glands are producing too much parathyroid hormone and not responding to calcium levels. If those glands are removed, they can no longer cause problems. The normal parathyroid glands that remain will continue to function normally, the blood calcium levels will return to normal, and the effects of the disease will reverse.
The key to hyperparathyroidism surgery being curative is simple: all abnormal parathyroid glands need to be removed, as long as some parathyroid tissue remains. But not all surgeries are the same. Most commonly, this disease is caused by one bad gland. But up to 35% of the time will have more than one. One of the most common approaches to surgery is called a focused parathyroidectomy. It involves using imaging to identify the problem gland before surgery. During the surgery, that gland is removed and parathyroid hormone levels are checked to see an appropriate drop, and no further evaluation is done. This leads to a few problems that will be discussed in the next two sections. We do not ever do this type of operation because the cure rates are not high enough and too many people will need a second operation.
All four glands are evaluated during the surgeries that we perform. The difference between the two approaches is simple: a focused parathyroidectomy will fail to cure 15-20% of the time. The will need a second operation to remove the second tumor! In the right hands, the success rate should be 99% when all four glands are evaluated. You can read about surgery for hyperparathyroidism here.
4) Surgeon Experience Effects the Cure Rate for Hyperparathyroidism
Like so many other areas of medicine, experience increases cure rates for hyperparathyroidism. This isn't surprising, we get better at many things in life with practice and repetition. The effect of surgeon experience has been shown for several surgeries, and parathyroid surgery is no different. The average general surgeon or ENT does about 2 of these operations a year, while we do three every day before lunch. We learn something from every case we do, and use that information for every operation going forward.
How big of an effect does experience with hyperparathyroidism have on cure? In short, a significant one. Surgeons can basically be divided into three groups based on the frequency of doing a parathyroid operation. The first group is the average general surgeon or general ENT, who do only a handful of these operations annually. The second group is comprised of endocrine surgeons and head and neck surgeons. This group has special training in parathyroid and a few other surgeries, and limits their practice to only a few conditions. The final group is surgeons who routinely do parathyroid operations multiple times a week. The graphs here show the differences in cure and need for a second operation. If you see an inexperienced surgeon, you will have almost a 1 in 6 chance of needing to go through the same operation again. Intermediate volume surgeons still have a risk of about 1 in 20. We use two high volume surgeons in each case, giving you the best chance of a "one and done" surgery.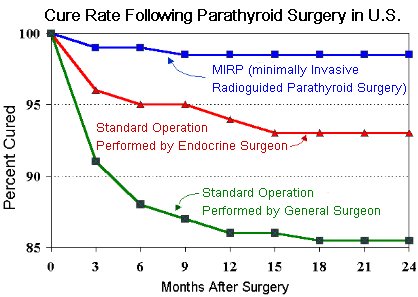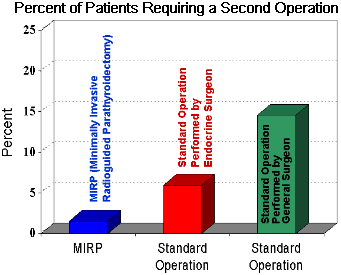 5) Scans and X-Rays have Little Impact on Curing Hyperparathyroidism
Technology and imaging are powerful tools when used appropriately, but they do not directly affect cure rates of hyperparathyroid surgery. At no point should imaging be used as a tool for diagnosis or for determining whether someone should have surgery. We have a section of our webpage devoted to scans for parathyroid disease. Making these mistakes are the only way scans effect cure: they prevent it! A negative scan may prevent someone from being referred to a surgeon or a surgeon from operating on someone who can be cured of their hyperparathyroidism and symptoms. About half of all scans in people with curable hyperparathyroidism are negative. Don't let your doctor choose a wait and see approach because of a negative scan. Negative scans are some of the easiest operations.
Scans and x-rays should be used to augment operative decision making. The information gained from scans can help modify how the surgery is performed for a small subset of people. The biggest impact is when tumors are in very atypical locations, which happens less than 5% of the time. We use the information to tailor our surgery to what each person needs. In most cases, you won't even notice a difference at all.
---
Read more on the Parathyroid blog here: https://www.parathyroid.com/blog/
To become our patient, fill out the form at this link: https://www.parathyroid.com/Parathyroid-Surgeon.htm
---
---