Top 5 Things to Know About Hypoparathyroidism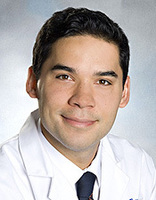 World Hypoparathyroidism Awareness Day, observed on June 1 each year, brings increased awareness of hypoparathyroidism and the need for improvements in education, prevention, and treatment for this poorly understood condition.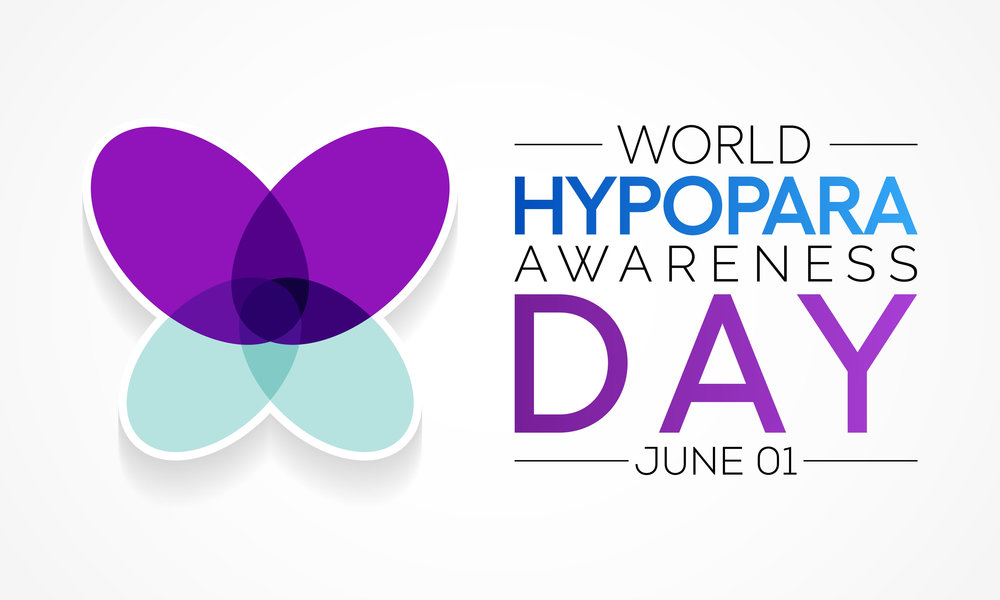 Hypoparathyroidism is characterized by inadequate parathyroid function, which typically is the result of an avoidable surgical complication. People with this condition must take medications throughout the day, and most continue to have symptoms of the disorder – even when their lab results seem okay.
Hypoparathyroidism takes a serious toll at home and at work, and has significant costs associated with multiple doctor visits, costly prescriptions, lab tests, and job disability. As if that weren't enough, it also causes calcium deposits in the kidneys, brain, eyes, and blood vessels.
In an effort to bring increased awareness to this chronic condition, we list the "Top 5 Things to Know About Hypoparathyroidism".
Top 5 Things to Know About Hypoparathyroidism
1) What is hypoparathyroidism?
Hypoparathyroidism is a condition characterized by low levels of calcium and high levels of phosphate in the blood due to inadequate production of parathyroid hormone (PTH).This is a disease state of insufficient parathyroid gland function.
The parathyroid glands are the body's "thermostat for calcium". Parathyroid glands can sense when blood calcium levels are low, and they respond by releasing PTH, which increases the blood concentration of calcium. PTH works primarily by targeting the bones, kidneys, and gut to boost the amount of calcium in the blood.
Although low PTH levels can be a transient issue immediately following neck surgery, we will be addressing the chronic form of the condition that doctors call permanent hypoparathyroidism.
2) What are the symptoms of hypoparathyroidism?
The symptoms of hypoparathyroidism are caused by low blood calcium levels. Calcium plays an essential role in how nerves conduct impulses and how muscles contract. Consequently, most of the symptoms of hypoparathyroidism result from abnormal nerve and muscle function.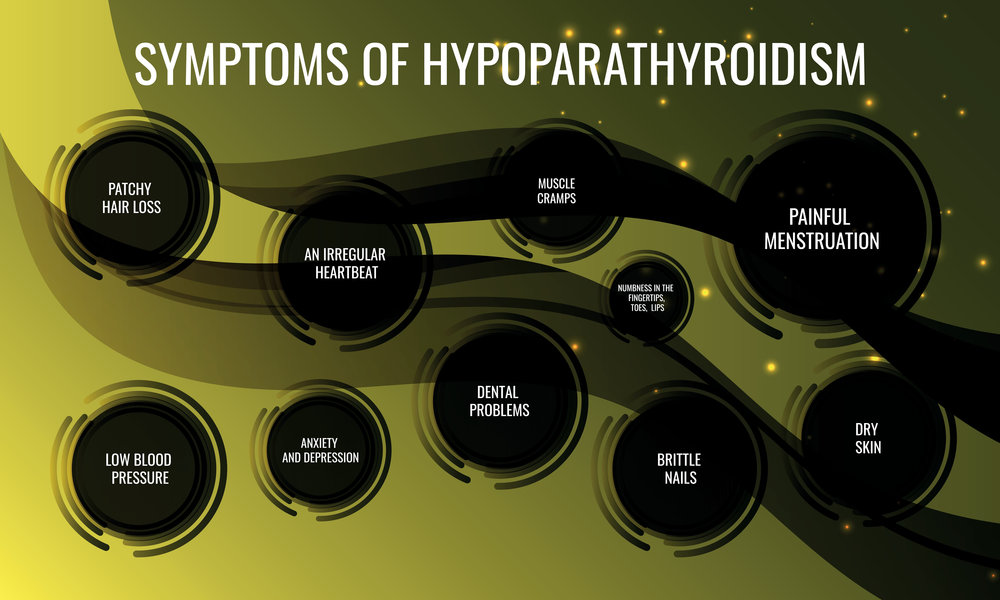 These symptoms include numbness (typically around the lips), tingling (typically in the fingertips or toes), and muscle cramping. Other symptoms include mood changes (such as irritability or depression), problems with memory, fatigue, and dizziness.
Long term signs and symptoms of hypoparathyroidism include hair changes (dryness and hair loss), cataracts, kidney stones, calcification of the kidneys, dental problems, and calcium deposits of the skin.
3) What causes hypoparathyroidism?
Most people living with hypoparathyroidism have it as a complication of thyroid and parathyroid surgery, as a consequence of the inadvertent damage or removal of parathyroid glands. Less commonly, hypoparathyroidism can be a genetic condition resulting in defective parathyroid development or function.
While people usually have four parathyroid glands, only one normal gland is required to maintain normal blood calcium levels. Since parathyroid glands are usually located on, near, or inside the thyroid gland, all four parathyroid glands can be inadvertently removed during thyroid surgery.
Similarly, people who undergo parathyroid tumor surgery can also suffer from hypoparathyroidism when the surgeon fails to preserve at least a single viable parathyroid gland. Although this complication has been reported after other cancer operations and vascular surgery in the neck, the majority of hypoparathyroidism is a complication of thyroid and parathyroid surgery.
4) How is hypoparathyroidism treated?
The goals of treatment for hypoparathyroidism are not only to correct the lab values, but more importantly, to increase overall quality of life. For many years, treatment was limited to calcium pills and activated vitamin D (a prescription drug also known as Rocaltrol). Adequate calcium absorption in the gut depends on activated vitamin D.
However, our ability to activate vitamin D depends on PTH. Consequently, people with hypoparathyroidism require a prescription for activated vitamin D, as they cannot produce activated vitamin D (because they do not make PTH).
Recombinant PTH, also known as Natpara, can be used with calcium and activated vitamin D. Studies have shown significant improvements in quality of life with this injectable drug, but unfortunately this has since been recalled and it is unclear when it will be available.
The ideal future treatment includes a continuous calcium monitor and infusion pump for recombinant PTH, similar to what is seen for insulin-dependent diabetes. However, this technology is not currently available, and hypoparathyroidism has not been a high priority for either government funded or private research.
5) How can you avoid hypoparathyroidism?
The most important way to avoid hypoparathyroidism is to find an experienced surgeon to perform your parathyroid or thyroid surgery. The "acceptable" rate of a surgeon causing hypoparathyroidism during an operation on the thyroid or parathyroid glands is about 1% or less, as reported in the medical literature.
The Norman Parathyroid Center published a study in collaboration with the Hypoparathyroidism Association (www.hypopara.org) to collect data on over 200 patients who were made hypoparathyroid because of surgery on their thyroid or parathyroid glands. Almost every patient with this complication was operated on by a surgeon who does not perform parathyroid or thyroid surgery more than once per month. These are inexperienced surgeons, and their lack of expertise is directly related to the occurrence of this problem.
This study found that surgeons who perform more than 150 thyroid/parathyroid operations per year are unlikely to cause hypoparathyroidism, while those that perform fewer than 20 of these operations annually have a 10% chance of causing this or another serious complication. Surgeons who perform less than one thyroid/parathyroid operation per month have a risk of causing permanent hypoparathyroidism nearly 1000 times higher than surgeons who perform over 500 of these operations per year.
This study also found that patients usually do not ask their surgeon about their experience, and when asked, surgeons almost always exaggerate their expertise, with half of the surgeons exaggerating the number of these operations they perform by more than two-fold.
Ultimately, reducing the incidence of hypoparathyroidism lies in the hands of the patients. People should be educated about hypoparathyroidism as a life-changing complication prior to undergoing surgery on their thyroid or parathyroid glands. People should check on the experience of their surgeons.
---
Additional Resources:
---
---