What Do Our Parathyroid Glands Do?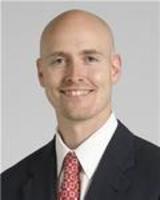 Parathyroid Function: What Do Our Parathyroid Glands Do?
What Are Our Parathyroid Glands?
While most people have heard of and have at least some understanding of the thyroid gland and what it does, far fewer of us have ever heard of the parathyroid glands or have any clue what they might do for us. There is often confusion about this, with the assumption being made that the parathyroid glands are related in their structure and function to the thyroid gland – after all their names sound pretty similar. In fact, the jobs of the parathyroid glands and the thyroid gland have nothing to do with each other. Learn more about the thyroid gland.
The only things these two glands share are part of a name and a general location in the body. Both the thyroid gland and the parathyroid glands (we have four of them) are located in the neck in fairly close proximity to each other. This is, in fact, how the parathyroid glands received their name. The thyroid gland, being significantly larger and more easily identifiable as an anatomic structure was discovered and named long before the parathyroid glands were. The parathyroid glands are so small in humans (sometimes as small as a grain of rice) that it actually took a medical student in Sweden, Ivar Sandstrom, performing an anatomic dissection on as large an animal as a rhinoceros to identify them In 1877. As these glands were close to the previously named thyroid gland, they were creatively named the "para"thyroid glands. After this discovery it would take many more years before scientists determined what exactly the function of these glands was.
What Do Our Parathyroid Glands Do?
The answer to this question remained a mystery for nearly another century. During the ensuing decades a few observations were made. First, it was noted that a dangerous condition called tetany (uncontrolled muscle contraction) occurred following surgical removal of the thyroid gland, but only if all the parathyroid glands were also removed. It was later realized that removing only the parathyroid glands caused the same condition. Initially it was thought that tetany was caused by a toxin and that the parathyroid glands functioned in a detoxifying capacity. This persisted for many years until it was determined that tetany was caused by calcium deficiency. In the early 1920's, parathyroid hormone was isolated and it became accepted that the job of these glands was to regulate calcium levels in the body.
How Do Our Parathyroid Glands Regulate Calcium?
Like all electrolytes in our bloodstream (sodium, potassium, magnesium), the concentration of calcium is very tightly regulated. This is necessary, because if the amount any of these electrolytes become too high or too low it can be dangerous to us or even deadly. The only job of our parathyroid glands is to raise calcium levels back into the normal range when the concentration becomes too low in our bloodstream. The cells in our parathyroid glands have receptors that can sense the concentration of calcium in our blood. When this concentration drops below a set point parathyroid hormone (PTH) is secreted by these cells and acts in three main areas of our body to increase calcium levels back up to normal – the bones, the kidneys, and the gut (intestines).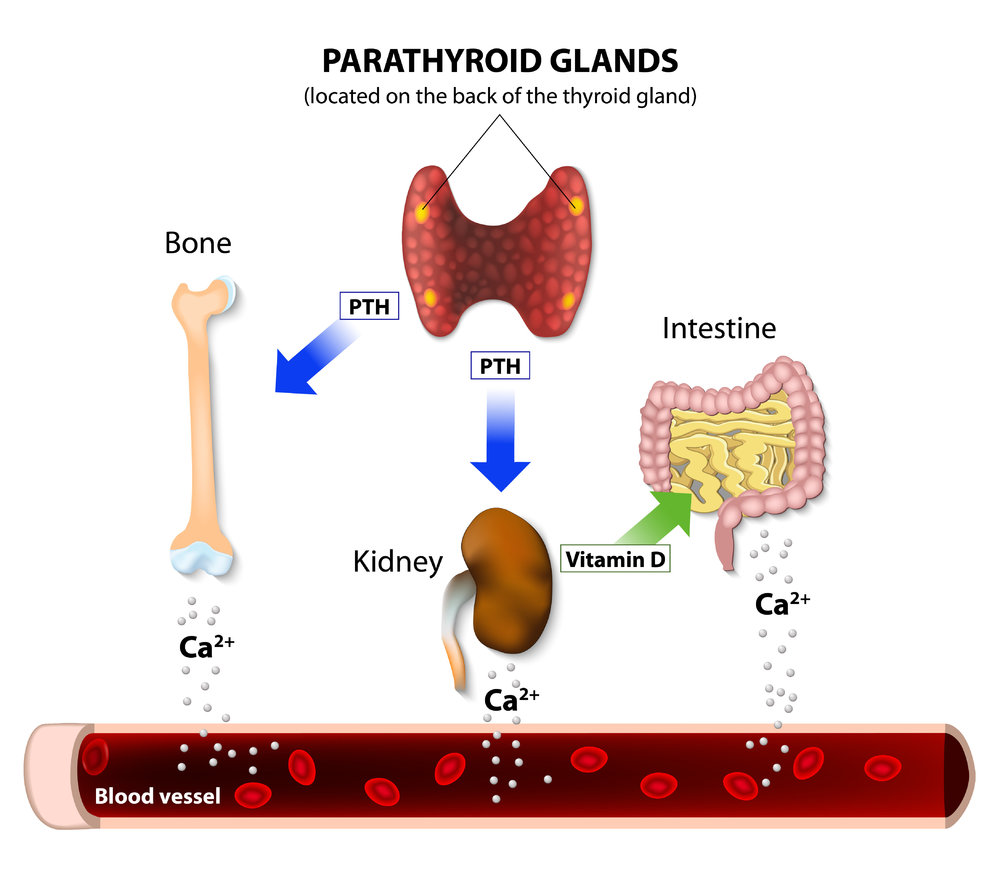 Action on Bone
With our skeleton containing about 99% of our bodies' calcium stores, it makes sense that this would be a prime target for parathyroid hormone when our blood levels are too low. Calcium exists within a latticework of other elements in our bones. Within this are cells called osteoclasts, which are largely dormant. Parathyroid hormone activates these cells, which then act to break down this latticework, releasing calcium into the bloodstream and increasing blood levels.
Action on the Kidneys
Our kidneys filter quite a bit of calcium each day. Parathyroid hormone acts in two ways in the kidney to increase calcium levels in the bloodstream. First, it acts in the renal tubules to increase resorption of calcium from the urine back into the blood. It also blocks resorption of phosphate, which binds calcium in the bloodstream and makes it unavailable for use.
Action on the Gut
Parathyroid hormone actually has an indirect effect on the gut. Its direct action begins back in the kidneys, where PTH promotes conversion of 25-OH vitamin D to its active form 1,25-OH vitamin D3. This active vitamin D then acts on the intestinal epithelial cells to promote flow of calcium ions into the bloodstream.
Why Is Regulation of Calcium Important?
Calcium is intimately involved in many important processes in our bodies. A few of these include the way our nerve cells send signals, how our muscle cells contract, and how we produce acid in the stomach to digest the food we eat. When calcium levels are outside the normal range, these processes begin to be impacted. Not surprisingly, this leads to a host of neurologic and musculoskeletal problems and symptoms.
Problems with our calcium regulation can occur when we have too much or too little parathyroid hormone. Too little parathyroid hormone occurs primarily when someone has had their thyroid surgically removed and the parathyroid glands are all damaged or removed inadvertently with the thyroid. This is why it is important to have a very experienced surgeon perform your thyroid surgery. Learn about thyroid surgery and our sister surgeons at the Clayman Thyroid Center.
Too much parathyroid hormone is produced in patients with a disease called primary hyperparathyroidism. This is caused when a benign tumor grows in one or more of our parathyroid glands leading to oversecretion of PTH. Over time, this causes damage to our organs, including the heart, the skeleton, the brain, and the kidneys. It also causes many symptoms given the interference with normal neuromuscular function as described earlier. Learn more about hyperparathyroidism and treatment for hyperparathyroidism.
---
Additional Resources:
---
---