Q&A with Dr. Jamie Mitchell, Medical Director and Senior Parathyroid Surgeon
Posted: Nov 30th, 2022
The surgeons at the Norman Parathyroid Center are the most experienced parathyroid surgeons in the world, performing over 10% of all parathyroid operations in the US. Dr. Jamie Mitchell is a senior surgeon and serves as medical director of the Norman Parathyroid Center at the Hospital for Endocrine Surgery in Tampa, Florida.
Get to know expert parathyroid surgeon Dr. Jamie Mitchell a bit better through the Q&A below!
From left to right: Dr. Dan Ruan, Dr. Drew Rhodes, Dr. Jamie Mitchell, Dr. Luke Watkins, Dr. Kevin Parrack
---
1) Tell us a bit about your background and how you decided to specialize exclusively in parathyroid surgery.
I grew up in a fairly small town in Maine called Winslow. It is about an hour north of Portland (which is a great little city which some people reading this may actually be familiar with) and is close to Colby College - an excellent liberal arts school. I was always most interested in the sciences in school, but decided I wanted to become a doctor after having a couple of serious illnesses as a child. I was so grateful to the doctors that took care of me and helped me through these times, that I knew that was what I wanted to do for other people when I got older.
I did my undergraduate studies at Holy Cross College in Massachusetts where I majored in biology/pre-med. I went on to Georgetown University for medical school, followed by general surgery residency training for seven years at Harvard university in Boston. During residency, I did two years of research, and it was during these years that I developed an interest in endocrine surgery as a specialty. I was drawn to the disease processes as well as the variety of challenging technical aspects to the treatment of endocrine surgical diseases. I did fellowship training in endocrine surgery at the Cleveland Clinic in Cleveland, OH and became staff there as an assistant professor of surgery in 2007.
I spent 8 years at the Cleveland Clinic as an academic endocrine surgeon performing operations for both benign and complex malignant thyroid disease, parathyroid disease, adrenal disease, and neuroendocrine tumors of the pancreas and gastrointestinal tract. I eventually became interested in a change from academic surgery and was recruited to the Norman Parathyroid Center. After visiting the Center I was astonished at the level of skill and expertise displayed by Dr. Norman and his team in the treatment of parathyroid disease - the most challenging endocrine surgery disease to treat successfully in my opinion. I could not resist the opportunity to become part of the best Center in the world for the treatment of parathyroid disease and joined the practice in 2015.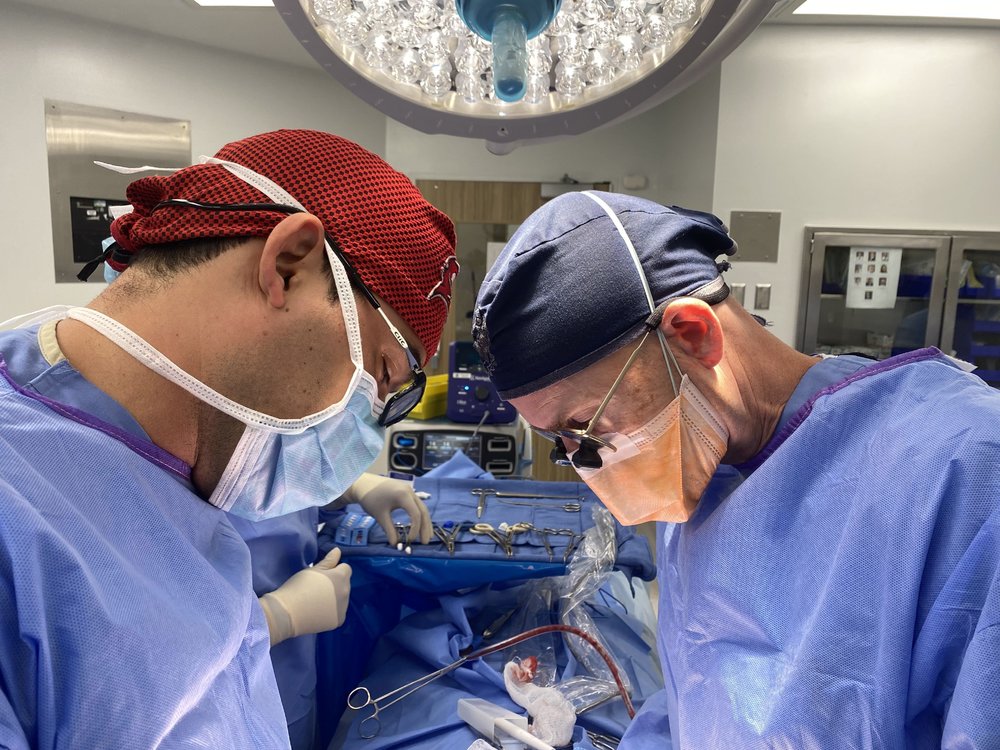 Drs Dan Ruan and Jamie Mitchell performing parathyroid surgery at the Hospital for Endocrine Surgery in Tampa, Florida.
2) What aspect of parathyroid surgery is most interesting to you?
While I specialize in all aspects of the surgical treatment of parathyroid disease, I have a particular interest these days in complicated re-operative parathyroid surgery where patients have had an unsuccessful operation elsewhere. While these cases are significantly more challenging technically and in terms of surgical decision making, they are for me the most satisfying when the patient is cured.
3) What do you enjoy most about your job as a parathyroid surgeon?
I really love being a surgeon. I remember when I was still in medical school wondering what it would be like to stand at an OR table, have a patient's health, possibly their life, in my hands, and take them through an operation safely and successfully with a positive impact on their life. At that time, I could not really imagine actually being able to do this, but now it is an experience I am fortunate enough to have almost every day. I am incredibly grateful to have a job/career where I truly can not wait to get to work every morning. I love the intellectual and technical challenges of parathyroid surgery. I love that in this practice, I get to meet people from all over the country and the world with the opportunity to change their lives in a positive way. Hearing back from patients a few weeks or months after surgery with stories about how they have gotten their lives back is incredibly rewarding.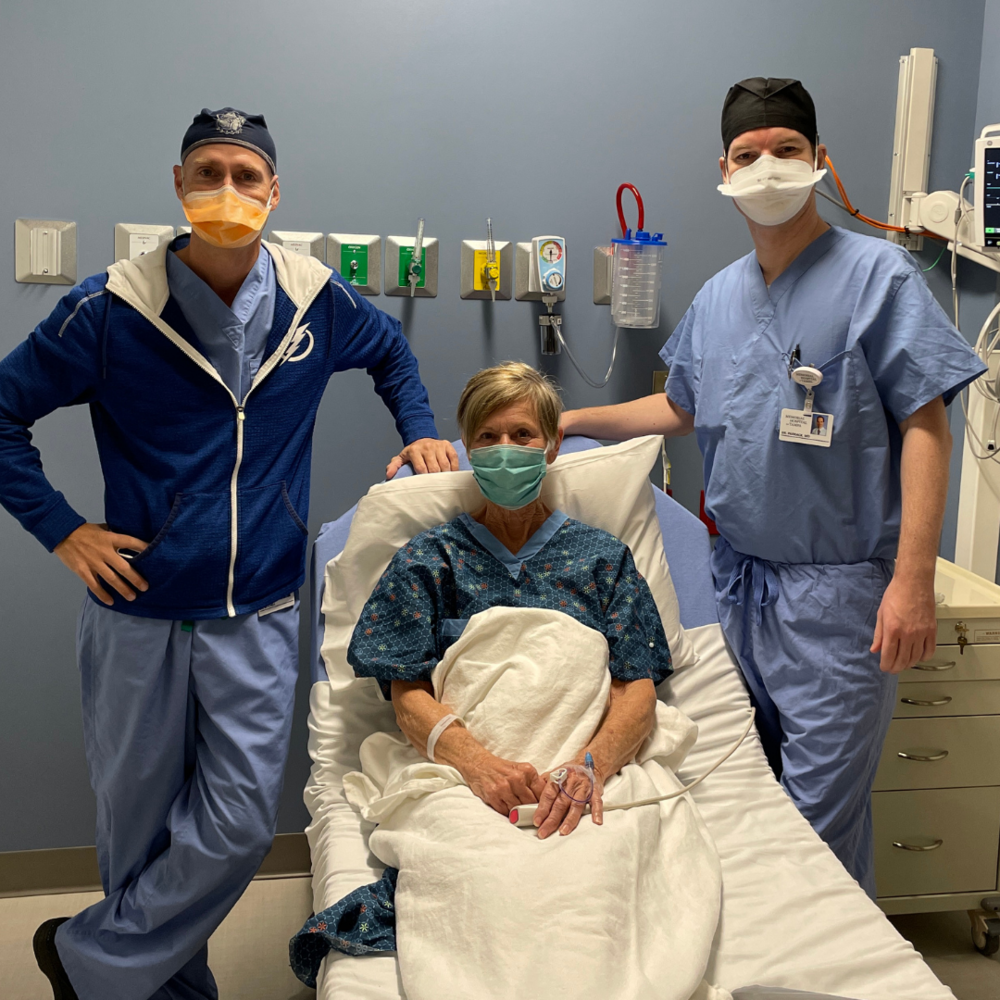 Drs Jamie Mitchell and Kevin Parrack pictured with the first parathyroid surgery patient at the Hospital for Endocrine Surgery in January 2022.
4) What do you think anyone considering parathyroid surgery should know?
The most important thing for patients considering parathyroid surgery to know is that if you have been diagnosed with primary hyperparathyroidism then it absolutely should be treated! Many doctors recommend "watchful waiting", but this is a mistake. Parathyroid disease causes accelerated bone loss in your skeleton, accelerates atherosclerotic change in the arteries in your heart and brain increasing your chances of having a heart attack or stroke, and damages your kidneys increasing your chances of renal failure and the eventual need for dialysis. It does not make sense to "wait" until these end-organ complications occur and THEN treat the disease that caused them. Parathyroid disease should be treated as soon as it is diagnosed to PREVENT these things from happening to your body. Having surgery to treat your parathyroid disease (the only treatment for this) will almost certainly also make you FEEL better, as hyperparathyroidism causes a constellation of symptoms.
The next most important thing for patients considering parathyroid surgery to know is how important it is that the surgeon taking care of you and their team are very experienced. Successful parathyroid surgery can be a challenge, and excellent training followed by a wealth of experience are necessary to successfully manage all of the many curve balls parathyroid embryology/anatomy can throw at you. Myself, along with all the surgeons at the Norman Parathyroid Center, have had their undergraduate and medical school education, as well as their fellowship training in Endocrine Surgery, at the best institutions in this country. This was followed by training from the most experienced and accomplished parathyroid surgeon in the world - Dr. Jim Norman. No other institution in the world has the collective training and experience in the treatment of parathyroid disease as the Norman Parathyroid Center at the Hospital for Endocrine Surgery.
5) Do you think there are any misconceptions about parathyroid surgery?
I think that many primary care physicians and endocrinologists are under the impression that parathyroid surgery is a very risky, lengthy operation that has a relatively high chance of being unsuccessful. This is due to the fact that many of these doctors have had patients have bad outcomes from surgeries performed by inexperienced surgeons. Because of this, they have developed the habit of only referring patients for surgery with significant complications of the disease like significant renal failure, heart disease, osteoporosis with pathologic fractures, etc., when they should be treated as soon as the diagnosis is made. I see this all the time. The reality is that the majority of patients with this disease can be successfully treated with a minimally invasive parathyroid operation that takes 15 to 30 minutes, is performed as an outpatient, with minimal recovery time - they just have to find the most experienced parathyroid surgeons (hint - they are at the Norman Parathyroid Center at the Hospital for Endocrine Surgery in Tampa, FL!)
6) Why do patients travel from all over the country and from other countries to have their parathyroid surgery with your team?
People travel from all over the country to have their parathyroid surgery at our Center at the Hosptial for Endocrine Surgery because they have heard about patients who have had bad operations around the country by inexperienced surgeons and were not cured of their disease. Patients are well informed these days and do their own research and learn that our Center exists and that there are other, much better options than their local surgeon who simply is not experienced at the surgical treatment of parathyroid disease. People care about their health, and particularly when it comes to having an operation, are willing to go through the minor hassle of travelling to our Center in Tampa in order to give themselves the best possible chance for a successful outcome. Additionally, after performing tens of thousands of parathyroid operations we can do these operations, quickly, safely, through a small incision, and as an outpatient with less invasive anesthesia and this is really appealing to most patients.
In addition to the unmatched experience of the surgeons, the Hospital For Endocrine Surgery was designed specifically for our patients. This has never been done before. In every other hospital, surgeons obtain privileges and make do with what the hospital has to offer in terms of facilities. This is never ideal as the hospital is trying to accommodate numerous different service lines (orthopedics, hepatobiliary, general surgery, etc). Our hospital was designed solely for our patients, the nursing and ancillary staff take care of our patients only, and this makes a huge difference in terms of the experience of our patients and their families.
7) What makes your team stand apart from other surgeons/what is unique about the experience your team provides to the patient?
Our team is by far the largest, most experienced group of surgeons in the world who have dedicated their practice solely to the surgical treatment of parathyroid disease. The anatomy and embryology of parathyroid glands is complex, and there are therefore many curve balls that this disease can throw at you. After tens of thousands of operations performed, we have seen every curve ball many, many times and have learned how to "hit" them. Surgeons with far less experience simply have not seen all these curve balls and because of that, when they are faced with one of them, they whiff. When we have a patient with a challenging case, there are not only one or two surgeons, but often 6 of the most experienced parathyroid surgeons in the world present to help solve it.
In addition to our unmatched surgical experience is the concierge nature of our practice with personal phone calls to every patient by their surgeon after their surgery. All my patients have my cell phone number and many of them have my email address so it is easy for them to communicate with me after surgery if they have any questions or issues. Often the communication I receive post-operatively is how well they are doing and how happy they are, which in turn makes me happy!
8) Tell us about a particularly rewarding experience with one of your parathyroid surgery patients.
I once took care of a patient who underwent an unsuccessful operation in another state, and was told that nothing more could be done for her. She had crippling bone and joint pain as a symptom of her parathyroid disease to the point she was unable to walk and was confined to a wheelchair. About ten years after her initial operation she learned of our Center and decided to reach out to us. I ultimately operated on her, and was able to find and removed her parathyroid tumor. The bone and joint pain cause by hyperparathyroidism goes away instantly after removal of the tumor, and when I saw this patient in the recovery room about an hour after surgery, she was up walking for the first time in over ten years, because her pain had vanished. It is not possible to describe how happy this patient was, and it remains one of my best memories from my surgical career.
9) How do you enjoy spending your time outside of work?
I was a pretty decent athlete when I was younger, and while my basketball days are sadly behind me, I still am pretty passionate about golf and tennis which are a bit safer sports to play at my current age. I really like (and am occasionally frustrated by) the challenge of golf, but have gotten my handicap down to a 6 which is not so bad. I remain a tennis player and have not, nor do I intend to, make a transition to pickle ball.
I also am a self-taught pianist and spend a lot of my free time playing classical piano music. I find this very relaxing while also challenging, and am currently working my way through Chopin's nocturnes. Tampa has a very good arts scene and I frequently go to Florida Orchestra performances.
Finally, I enjoy reading fiction - primarily fantasy novels these days. It is a nice change from all the peer-reviewed literature and text-book reading I have had to do over my 16 years of education and training.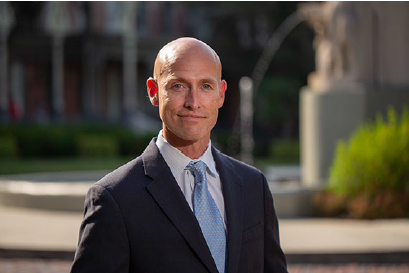 We hope you enjoyed getting to know Dr. Jamie Mitchell a bit better! Learn about the other expert parathyroid surgeons of the Norman Parathyroid Center at the Hospital for Endocrine Surgery.
---
Additional Resources: